Does Ultra THC Detox Work? – Frequently Asked Questions.
How Does The Ultra THC Detox Cleanse Money Back Guarantee Work?
If you are not satisfied with Ultra THC Detox pills simply contact us within 15 days of purchase and you will be 100% refunded. No questions asked!! We refund the full order amount including shipping. Refunds take 5-7 days to process. We are one of the only detox companies to offer a FULL REFUND! 
Our unique formula consists of 50:1 extracts of; Organic Burdock Root, Organic Dandelion Root, Organic Rhubarb Root, Organic Goldenseal, Organic Sheep Sorrel Herb, Organic Cat's Claw Bark, and Organic Pau D'Arco Bark. These organic herbs have been use for centuries to detoxify the body and promote a healthy lifestyle. Please read more about our all natural detox pills here. 
How Long Will I Stay Clean For After The Detox Program?
Ultra THC Detox capsules completely remove all toxins from your body so you will be clean for good! It is a 100% permanent cleanse!
Does It Ship In Discrete Packaging? 
Yes… All orders are shipped in plain USPS mailing envelopes to ensure confidentially.
Are There Any Side Effects?
Ultra THC Detox is 100% natural and only contains organic herbal extracts. Please read the packaging to make sure you do not have any allergies to the ingredients. To date we have sold over 10,000 bottles and have not had a return due to any side effect.
If you have any more questions about Ultra THC Detox Herbal Cleanse please contact us.
  
Below is some feedback we got from our recent detox customers.
Lacy –
The capsules worked and I passed my test. Shipping was fast and the Green Tea was excellent! Very happy customer!
Scott –
Well I can't believe it!!!! But I have attached file to prove it.. It's clean NEGATIVE And it's only day 6… I'm very impressed and very happy!!! I will continue with my last day tomorrow and take my test on Thursday… Thanks A LOT YOU GUYS . Your company saved my career and will be making 100,000$ a year plus now because of this product.. This has been a lesson in life tho.. I'm done with marijuana for good! Not worth loosing my high paying job in the future…
Nick –
I passed my THC test last week. Good product. Will buy again!
Victoria –
I wanted to be clean and done with weed forever. This product worked great!  Thanks Guys!
James Jr. –
I like how its all natural and its not a cover up product. Just make sure to drink lots of water while taking the marijuana detox pills. If you follow the instructions you will pass the drug test.
Matt B.  –
I am a heavy pot smoker and kind of overweight. I was skeptical about this 7 day marijuana detox clean system. After finishing the bottle of thc detox capsules I felt better and did pass my home marijuana pee test. It is worth the price.
Kristen –
Good product and fast shipping. I passed my at home marijuana drug test so I give this product 5 stars!!
7 Day Marijuana Detox Flush Cleanse – Perfect for the heavy and light marijuana user. This 7 day program will eliminate traces of Marijuana and THC drug use from your urine, blood and saliva. 100% Satisfaction Guaranteed.
Comes with 7 day supply of Detox Capsules. Up to 320 lbs body weight. Read instructions carefully before using. Failure to follow instructions may lead to undesirable results. This product is not intended to cheat a drug test.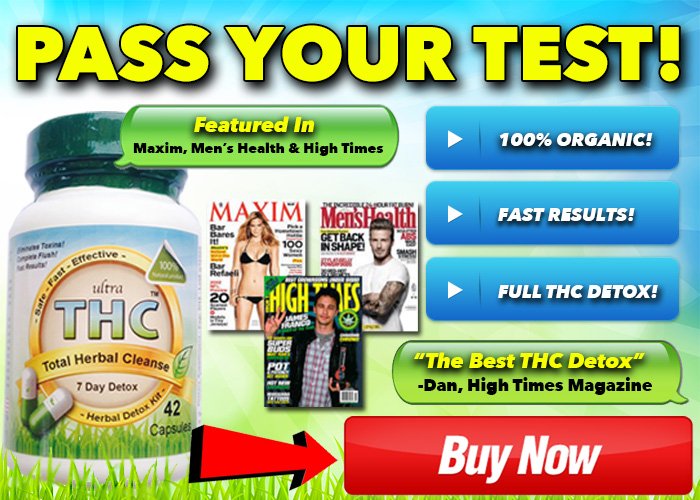 Why you should never "trick the system" by cheating on a marijuana drug test:
It is now a felony crime in most states to be caught manipulating / cheating the results of a drug test.
Most professional testing labs can and will detect the urine additives used in popular masking drinks.
It is becoming more and difficult to get away with using fake urine at many testing facilities, and you can forget about it in a supervised testing situation like a military or court ordered test.
Detox The Natural Way With Ultra THC Detox Capsules!


Follow Us

Search Our Site

Ultra THC Detox™ Pages

Marijuana Detox Blog

Detox From Weed Naturally!

Free 3 Day Shipping!

Fast Delivery! – Secure Ordering!

Detox Pills For Weed

Detox Pills To Pass A Drug Test For Weed - Pass Your Drug Test With Ultra THC Detox Pills - Easiest & Best Way To Pass Your Drug Test Fast!